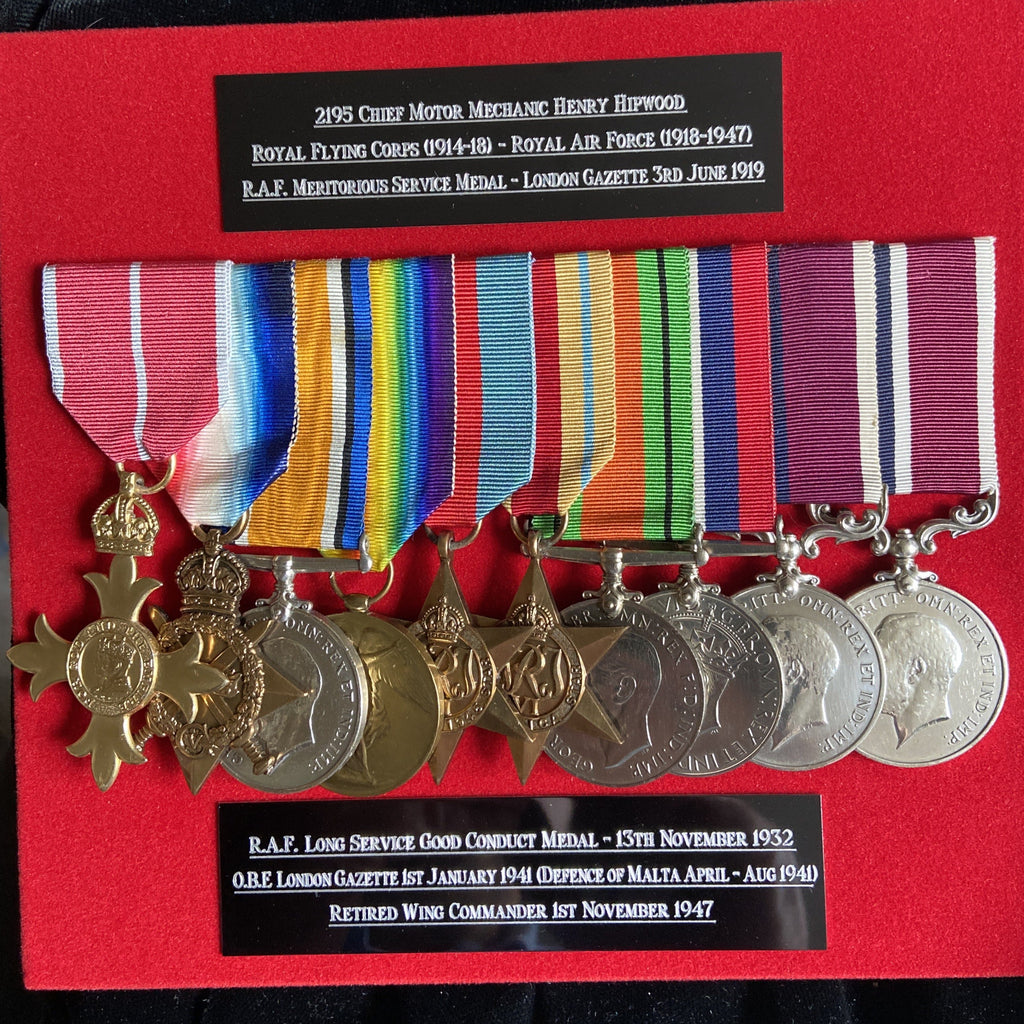 Britain
Group to 2195 Chief Motor Mechanic Henry Hipwood, RFC (1914-18) RAF (1918-1947) RAF Meritorious Service Medal (LG: 3/6/1919) RAF LSGC (13/11/1932) OBE (LG: 1/1/1941) Defence of Malta: April - Aug 1941, retired Wing Commander 1/11/1947, see description
---
A rare group of 10 to Technical Branch Sergeant Major, later Wing Commander, Henry Hipwood. 
Royal Flying Corps (1914-18)- Royal Air Force (1918-1947).
Served as Technical Branch Sergeant Major during WW1. He enlisted into the British Army as Air Mechanic and saw service on the Western Front. 
He was awarded the scarce RAF Meritorious Service Medal, London Gazette: 3rd June 1919.
After the war, he served in India. On the 26th of June 1926, he was awarded his RAF Long Service & Good Conduct Medal in Baghdad.
In WW2 he served in the Mediterranean as Chief Technical Officer at RAF Kalafrana, the seaplanes operation centre on the tip of Malta where he found himself through the Siege of Malta.
He was promoted to Wing Commander and on the 1st January 1942, he was awarded the OBE.
'As Chief Technical Officer at Kalafrana, he was responsible for the repair of all aircraft Gladiators. Such a high standard of work has been turned out, in spite of difficulties.'
A rare award for Malta. Includes documents, photos & full service history.
---
More from this collection