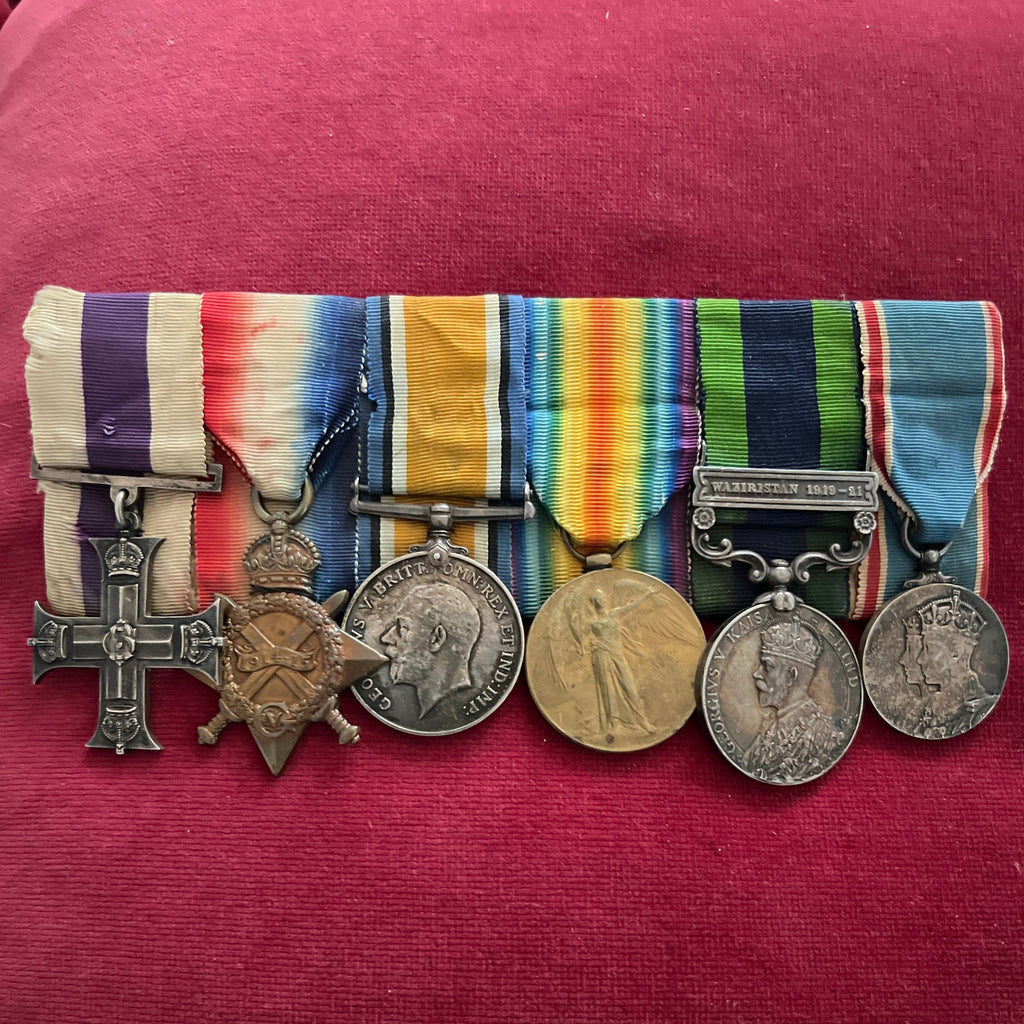 Britain
WW1 & WW2 RFC & RAF Military Cross group of 6 to Air Commodore J. L. Vachell. Involved with British Intelligence, he was placed in Hitler's black book of people to be executed if the Germans ever landed in the UK, interesting group, see description
---
WW1 Military Cross (MC) 1914-15 trio, IGS 1908 with Waziristan 1919-1921 clasp & 1937 Coronation Medal to,
Lieutenant J. L. Vachell RFA (on the Star)
Captain J. L. Vachell RAF (on the pair)
Flight Lieutenant J. L. Vachell RAF (on the IGS)
John Lyne Vachell was born 12-6-1892 in Monmouthshire and was commissioned into the 2nd Monmouthshire RFA on 29-8-1914 serving with B Battery.
He qualified as a pilot in January 1916 and went to serve in Egypt whilst attached to the RFC. He became Flight Commander no.15 Squadron RFC on 5th July 1917 and by the end of the war was Acting Officer commanding No. 53 Squadron on the Western Front.
He was awarded a permanent commission in the RAF on 1-8-1919 and relinquished his RFA Territorial commission on the same day.
He was Flight Commander with No.99 Squadron in India between 1-4-1920 and 20-2-1922. He held a number of appointments in the RAF in India, Aden & Quetta between 1927 & 1937 when he was appointed as Air Attache in Berlin.
He was the man who told Chamberlin not to go to war with Germany as the country was not ready to take the Germans on in battle due to the superior air power of the Germans.
He returned to the UK on the outbreak of QQ2 and on 15-3-1939 he was SASO, HQ. No-22 (Army Coperatio) Group. He returned to India in 1941 but retired on ill health grounds on 21-5-1943 and sadly dies in the RAF Hospital Halton in 1947.
He was involved with British Intelligence against Nazi Germany and was placed in Hitler's black book of people to be executed if the Germans ever landed in the UK.
Court mounted as worn and complete with basic research that confirms all of the above details.
MC was awarded in the London Gazette 18--1918 citation,
For Conspicuous gallantry & devotion to duty. He did excellent work on many occasions, continually locating & engaging successfully enemy heavy batteries.
---
More from this collection